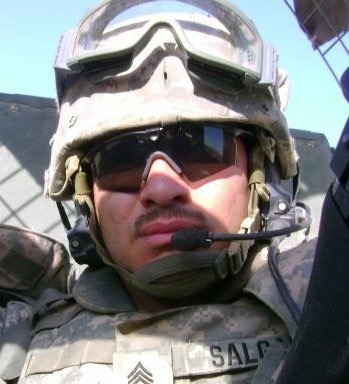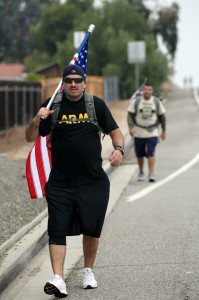 SERGEANT FIRST CLASS JOHN A. SALGADO
United States Army Reserve (USAR)
Sergeant First Class (SFC) John A. Salgado was born and raised in San Bernardino, California on September 22, 1979. He completed high school in June of 1998 and joined the United States Army Reserve and completed his Basic Training at Fort Knox, Kentucky and his Advance Individual Training, Heavy Wheel Mechanic, at Aberdeen Proving Grounds, Maryland.
SFC Salgado served in the 489th Maintenance Company San Bernardino, California; In June 2007 he was called up to Active Duty in support of Operation Iraqi Freedom and was attached to the 1015th Maintenance Company out of Fort Gillem, Georgia, he served as a mechanic at Forward Operating Base (FOB) Scania, Iraq and a mechanic and gunner at Combat Out-Post (COP) Shocker, Iraq; SFC Salgado re-deployed and was assigned to the 63rd Regional Readiness Command (RRC), as a Mobilization Non-Commissioned Officer. SFC Salgado was called back up to Active duty in Support of Operation Iraqi Freedom in December 2009 and was attached to the 382nd Combat Sustainment Support Battalion (CSSB), he served as the Shop Foreman and Driver for a Personal Security Detachment (PSD), at FOB Prosperity, Green Zone, Iraq. His unit was also known as the "THE ROUGH RIDERS".
SFC Salgado was injured and had to return state side and was attached to the Warrior Transition Unit (WTU), Fort Irwin, California; Once SFC Salgado was cleared to return to duty he was assigned to the 79th Sustainment Support Command (SSC) as the Maintenance Non-Commissioned Officer in Charge (NCOIC), he served that position for 2 years he was then selected to serve as the Executive Administrative Assistant for the 79th SSC. He is currently assigned to the 923rd Trailer Transfer Point (TTP), Bakersfield, California, as the Detachment NCOIC.
SFC Salgado's awards and decorations include the Meritorious Service Medal, Joint Services Commendation Medal, Army Commendation Medal (2nd Award), Army Achievement Medal, Army Good Conduct Medal, Army Reserve Component Medal, National Defense Service Medal, Iraq Service Medal with 3 Stars, Global War on Terrorism Service Medal, Armed Forces Reserve Medal with the "M" device, with the Numeral 2 and bronze hour glass, NCO Professional Development Ribbon with the Numeral 2 device, Army Service Ribbon, Overseas Service Ribbon (2nd Award), and the Army Reserve Components Overseas Training Ribbon with the Numeral 2.
SFC Salgado's civilian position is with the Department of the Navy as an Assistant of the Metrology Division, Corona, California.
SFC Salgado has three children. Michele, a current College Student at San Bernardino Valley College; Cheyenne, a Senior at Fossil Ridge High School, Fort Collins, Colorado; and six year old son Joseph.