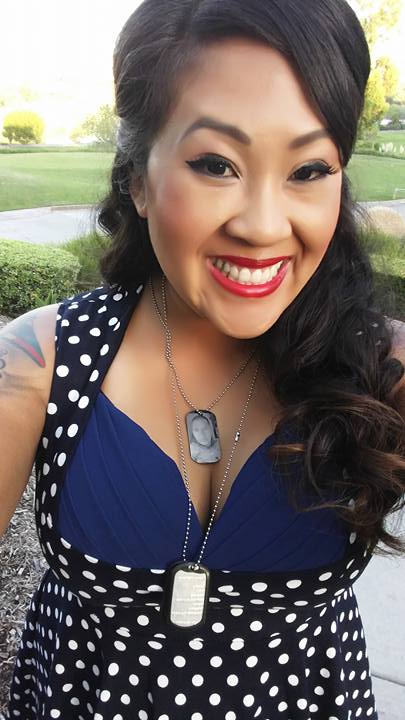 Evita Yniguez- De La Cruz
Contact:
760-713-4471
Evita.VSAP@gmail. com
VeteranSuicideAwarenessProject@gmail.com
Evita was born at Travis Air Force Base on September 6th, 1982. Evita is the oldest of 3 children born to her parents, Sam and Gilma. She grew up in Hesperia California and graduated from Hesperia High School in 2000. She enlisted in the Air Force Reserves where she became a Medic (4NO71). MarcAnthony, her son was born in 2003. Evita went on her first deployment in 2006 in support of Operation Iraqi Freedom. In October 2009, Evita was on her second deployment and she met her husband, James, who served in the Army. What started off as a friendship bloomed into more when they both returned from deployment. The couple were married in December 2010 and their daughter Lilyana was born in April 2011. James deployed to Iraq when Lily was just a few months old. When James returned he wasn't the same person, he struggled with depression and PTSD. January 13, 2013 was when life changed forever. James took his life in their home near Fort Hood in Texas. After James' suicide, Evita became isolated; she hid from the world. After almost a year Evita sought guidance and support which she found through Veterans Affairs. "It took me a while to realize that my husband's suicide isn't who he was, it's how he died. He was a beloved husband and father." -Evita
Evita found other military widows through support groups and organizations. She found that other suicide widows often feel isolated because of how their husbands died. Some suicide widows deny how their husbands died. Evita found that sharing her husband's story with others helps with the healing process. She had the opportunity to share James' life with Soldiers at Fort Irwin and with Airmen at March Air Reserve Base.
"I wanted a way to share my husband's beautiful life with others while spreading veteran suicide awareness to others. People are surprised when I tell them there are 22 suicides every day in the military. Where is the outcry? Why don't we see it on the news? I decided to host a walk for PTSD awareness in June. I was surprised with the amount of support from my community. In September I hosted a 22k walk for suicide awareness and again, I was surprised and humbled by the media coverage and support." -Evita
Veteran Suicide Awareness Project was born in July 2015. The goal of VSAP is to bring suicide awareness to the community. "Veteran suicide awareness is my life. I live it every day. I will keep sharing my husband's love and life with anyone who will listen. My kids will know how much my husband loved us. They'll grow up knowing he was a selfless Hero who gave everything for us." –Evita Evita currently lives in Oak Hills, California with her 2 children MarcAnthony, 12 and Lilyana, 4. Evita works as a licensed home health nurse and is in pursuit of a Bachelor's in Nursing degree, upon completion she plans to be a mental health nurse.